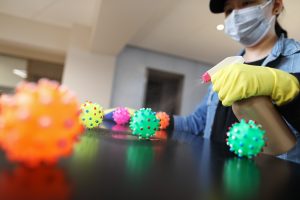 At Maid2Maid we could give your workplace a full sanitisation that will last up to 30 days when applied this will include all fixture& fittings at an incredibly competitive cost.
The health benefits of this are.
We use an electrostatic handheld sprayer that delivers a eco-friendly high kill rate and will sanitise all areas that normal cleaning methods miss and will last up to 30 days once applied.
A cleaner workplace means healthier employees, we only use eco-friendly non-toxic solutions to create a cleaner workspace which has proven to increases work productivity, a .dirty & dusty office increases the spread of harmful Germs/viruses leading into staff sickness resulting in employees taking time off work.
A clean and sanitized workspace signifies a level of professionalism and tells potential customers that you care about your brand and your employees. A happy employee is a productive employee, and as such, leaves a far better impression than a worker who has to deal with a messy workplace and unhealthy work environment.
We would recommend using this service once every 3 to 4 weeks to ensure a clean healthier environment.
Other benefits of our cleaning solutions are.
KILLS COVID-19, NOROVIRUS, C-DIFF, MRSA, E. COLI, SAMONELLA & LISTERIA.
KILLS UP TO 99.9999 OF BACTIRIA WITHIN 30 SECONDS.
LEAVES SURFACES BACTERIA FREE FOR UPTO 30 DAYS
ALCOHOL FREE & VEGAN FRIENDLY.
NON FLAMIBLE & NON-TOXIC.
SUITABLE FOR ALL SURFACES (NON-TAINTING).
FULLY COMPLIANT WITH EU BIOCIDE REGULATIONS.
TESTED FOOD SAFE AND HALAH COMPLIANT.
TESTED ON MEDICAL DEVICES.
NHS APPROVED.
IDEAL FOR; Home, Dentist/care homes, workplace/office or councils, nurseries & schools, gyms, hotels restaurants .
Sports Facility Centers
When you are talking about the fitness industry, health and hygiene are crucial. We can help deliver results that matter.
The solution we use kills 99.9999% of bacteria, leaving a clean and safe environment to work out in.
Our products are 100% environmentally friendly and biodegradable.
Dental Surgeries & Healthcare Practices
As healthcare workers see numerous different patients throughout the day, the risk of infection rises.
With our new solution and advanced technology, we are able to kill bacteria such as MRSA, leaving a safe environment where work can be carried out safely and hygienically.
Catering & Food Preparation
Surfaces such as walls, floors, ceilings and equipment gradually accumulate grease and fat which provides a potential breeding ground for bacteria such as E.coli.
With the new technology that Maid2Maid uses, we combat bacteria and viruses, making kitchens safer and cleaner places.
Child Care & Nurseries
Nurseries can become places teeming with bacteria and germs, that could be dangerous for children staying in these areas all day.
The solutions we are using can be used around the nursery to combat the spread and reproduction of bacteria leaving surfaces clean and germ-free.
Residental Care Homes
There is potential for germs and bacteria to be spread around a care home as people live in community spaces. Keeping both staff and patients safe is our top priority.
Our hygienic solutions destroy bacteria on a variety of different surfaces, including beds, furniture, and work tops.
Surface Disinfection Specialists
COVID-19                                           
MRSA
C. diff
Norovirus                                             
Salmonella
Parvo Virus                                            
E-Coli
VRE
Aspergillus Niger
Coronavirus
By using electrostatic technology, we can ensure all surfaces are treated, avoiding cross contamination. Proper surface disinfection is not possible without the assistance of advanced application technologies. All solutions used are BRP compliant, 100% biodegradable, cause no harm to humans, animals, or plants.
Preventive Action for your workplace
COVID-19 | Deep Clean Service Available
A reduction in viable micro-organisms on surfaces.
Will not lose effectiveness over time.
Prevents the growth of bacteria and viruses.
A reduction in indoor volatile organic compound levels.
A highly advanced antimicrobial coating.
CONTACT M2M ON 0161 221 1763