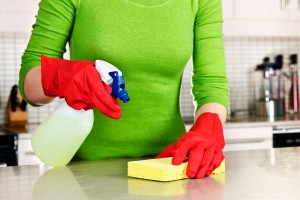 We understand that when you have a business to run, time is precious. So why give yourself extra hassle ringing numerous companies to sort all your issues out, when "one call does it all"?Our One Call service is designed to help Estate Agents, Private Landlords, Restaurants, Public Houses, Food Outlets, Tenants and Home Owners. Give us a call and we can help get your premises cleaned to a 5-star standard. We offer you a complete top to toe service including deep cleaning of the kitchen (including ovens), carpet & upholstery cleaning, rubbish removal, and even decorating if need be. You won't recognise your property when we have finished with it!

All our products are environmentally friendly, and we also sanitise as we clean. The fact that the products we use are environmentally friendly means that not only are they better for the planet, but also healthier for anyone who enters your property too.  Sanitisation is especially important for food outlets but beneficial to everyone as it can significantly reduce harmful germs that can make people ill.

The combination of the cleaning products we use plus the quality of the cleaning techniques that we use means that 99.9% of bacteria are killed. Our "one call" service will get your property in prestige condition in the quickest time.