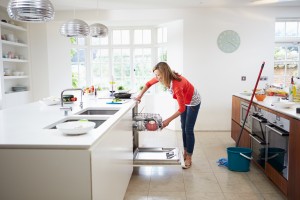 Maid2Maid is proud of its friendly and highly efficient team of cleaners in Hazel Grove. Our team are fully trained and managed to ensure that they are the best in the North West! We only employ people that we would be happy to have in our own homes, then we train them to the highest standards of domestic and commercial cleaning. Our main objective is to achieve customer satisfaction by going above and beyond the brief.
---
All of the work undertaken by our cleaners in Hazel Grove is of the highest standard; for example, we use predominately eco-friendly products to take extra special care of you and your home. Occasionally, we have to use chemicals for tougher jobs, but when we do, you can be sure that our highly trained staff handle them correctly. This way we can guarantee that all the work done by our team is safe. The security of our customers and of their homes is of the utmost importance to us. You can rest assured that your keys will be safe with us. Our staff are reliable and trustworthy and take their jobs seriously. Your keys will always be secure, and we are fully insured to hold keys - to give you extra peace of mind! We only hire
cleaners
in
Hazel Grove
that we have fully checked out, and who have a great attitude and are dedicated to their training and their job. They know their job perfectly, always complete it professionally, and strive to get the best feedback from customers. We are always open to feedback, and although we don't expect there to be any issues, we will of course tackle any staff training issues straightaway. Our team are trained to accept any feedback, be it good or bad, and work hard to achieve the best relationship with you. Our business relies heavily on word of mouth, so maintaining a great reputation is imperative. We want to impress each and every one of our clients, in the hope that they pass on our details to friends and family in the area.
---
For more information on Maid2Maid cleaners in Hazel Grove, please call us on 0161 217 1332 or email us at
[email protected]