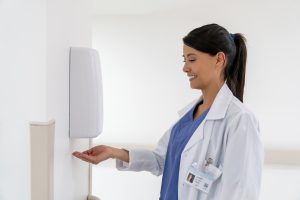 Our wall mounted hand sanitising dispensers is an essential for any business, ideally situated in any main entrance so employees & visitors can sanitise there hands when entering any work place, we believe our eco-friendly sanitiser is one of the best on the market, is NHS approved and last up to 6 hours on the hands once dry.
Ideal for, medical practices, care homes, workplace/office & councils, nurseries and schools, hotels/restaurants and any high traffic areas.
Benefits of using our wall mounted sanitising dispenser.
NO WATER OR RINSING REQUIRED.
KILL UP TO 99.9999% OF BACTIRIA WITHIN 30 SECONDS.
KILL COVID-19, NOROVIRUS, MRSA, E. COLI, SALMONELLA & C. DIFF AND MORE.
ALCOLHOL FREE AND HOSPITAL SAFE.
NON FLAMIBLE & NON-TOXIC.
REMAINS EFFECTIVE EVEN WHEN DRY UP TO 6 HOURS ON THE SKIN.
FULLY COMPLIANT WITH EU BIOCIDE REGULATIONS.
TESTED FOOD SAFE AND HALAL COMPLIANT.
SAFE TO USE ON ALL SKIN TYPES.
NHS APPROVED.
OUR HAND SANITIZERS ARE KIND TO HANDS AND CRUEL TO GERMS.
We believe sanitising is a very important part of the workplace in keeping employees and clients safe, this product is very affordable and can be installed and refilled on a regular basis for less than what you think.
Please telephone our office for further details.