How to Keep a House with Pets Clean
Domestic Cleaning Tips
In the UK alone, there are over 20 million domestic pets in households, with about 8.5 million dogs and 7.4 million cats – not to mention birds, hamsters, rabbits and various other animals that are allowed to roam around homes freely! As cleaners in Bramhall, we are well aware that sharing your home with a pet and trying to keep it clean can be quite a difficult task. However, it is one that we, as a cleaning company in Stockport, can help you with! Here are some of our top tips for keeping your home clean when you share it with a pet.
Brush Them Regularly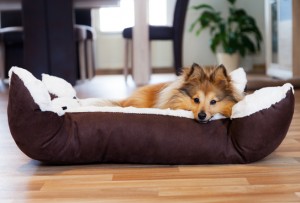 Most vets recommend that you brushyour pets regularly to keep the animal comfortable, but the added benefit to this is that you will also reduce the amount of hair in the air and on the ground.  Not all of the hair is guaranteed to stay on the brush, though, so your best bet is to groom your animal outside – this will also help to minimise any airborne skin particles which can sometimes cause allergies. If your dog or cat is moulting, then put a pair of damp rubber gloves on and give them a rub over. Another good tip for those of you with cats is to use a metal flea comb every time you groom them, as these are quicker to use and to clean than wooden or soft-bristle brushes.
Vacuum on a Regular Basis
As a company who offer cleaning services in Stockport, we know that a quality vacuum cleaner is a must have tool for any campaign to keep your home free from pet hair. How often you have to vacuum will depend on the number of people and pets in your home, and is something we can discuss with you on our initial visit. If you have hardwood or tiled flooring, we may need to sweep or mop instead, as these can do less damage to the floor than a vacuum can. You can also minimise the number of locations that need vacuuming by preventing pets from entering certain areas if you so wish.
Clean Up As Soon As Possible
As cleaners in Bramhall, we will make regular visits to your home to clean, but if you have pets, you should always clean up after them as soon as possible. The longer you leave mess untouched, the harder it is to clean and if you don't clean up mess, the animal will think it is appropriate behaviour and will continue to do it!
Our experience has shown us that it is best not to use a harsh cleaner containing ammonia in homes where there are pets, as this smells a little like urine and can send mixed messages to animals. This is just one of the reasons why the cleaning solutions we use are all environmentally friendly, to keep you, your family and your pets safe.
These are just some of the ways that you can keep your home with pets clean, and it is certainly a job that we, as a cleaning company in Stockport, can help you with. For more information on our cleaning services, please call us on 0161 217 1332 or email us at [email protected]