What Are the Benefits of a Long-Term Commercial Cleaning Contract for Businesses?
As a company who have offered commercial cleaning Stockport services for many years, we know that on average cleaning contracts usually run for around a three-year term. This may sound like a long time, but many local cleaning services providers will argue that this isn't actually long enough for them to make a significant and long-term impact on a site. A longer contract with a cleaning services in Stockport would bring a more dynamic client/contractor relationship and ensure that they build a mutually beneficial relationship.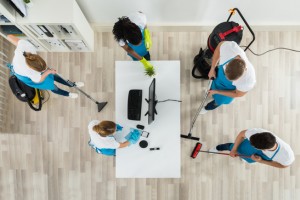 One of the main benefits of a longer term commercial cleaning contract is trust. A local cleaning services company can build up a thorough knowledge of the client's business, understand its strategic goals and help it to move in the right direction. Having a commercial cleaning company as a trusted partner is a big step towards ensuring your firm is more commercially successful. Working together over a longer period means that there is more opportunity for problems to be solved in innovative ways. The cleaning company will seek ways to improve processes and strategies, in order to make the contract less one-dimensional and more forward thinking.
Flexibility is another benefit of longer term contracts as well. Contracts should not just be about a higher level of service, but there should be a focus on building a solid and cooperative relationship between the client and the contractor in order to create more value. This will allow a working relationship based on partnership and innovation, which will, in turn, enable investment in processes and technology as required.
Another benefit of longer term contracts is that they allow more of a focus on the development of people. Again, it is about developing a partnership that allows the contractor to fully understand the client's priorities and long-term strategies. With a short term contract, there is always the challenge of getting to know the client and their building, etc. With a longer term contract, there is more continuity and stability for staff, and this can lead to greater development opportunities and increased investment in the people concerned.
Clients who have signed longer term contracts also find it beneficial because, it saves them time in the tendering process. They know that their cleaning is being taken care of, so they can devote their time and resources to other more important parts of the business. The good working relationship that develops between the client and the cleaning team on site also means increased morale and a reduction in sickness too. All of this leads to a much better level of service.
For more information about Maid2Maid commercial cleaning Stockport, please call us on 0161 217 1332 or drop us an email at [email protected]