What Does it Take to be a Great Cleaner?
As a provider of house cleaning services in Stockport and the surrounding areas, people are at the heart of our business. Making sure we have the right people working for us, who are well trained and highly responsible, means that we can we offer our customers the best commercial cleaning in Stockport.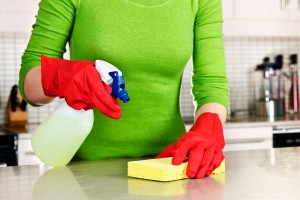 One of the questions we get asked a lot is 'what makes a great cleaner?' We love being asked this, as it gives us a chance to shout about the skills our team have. We all know that the term 'cleaner' isn't thought of as being cool or glamourous, but that doesn't make it any less worthwhile. When we recruit cleaners to the team, we aren't necessarily looking for people with amazing cleaning skills from the outset, because this is something that we can teach. Most people don't realise that we are more interested in a person's approach to life – although if they already have great cleaning skills and experience, it is always a bonus!
Here are the skills that we believe make a great cleaner:
Attention to detail – the places in a home or industrial setting that need cleaning may not always be obvious. So, we need people with a keen eye to find those hard to reach places and pesky cobwebs! We also want to know that they will leave 'no stone unturned' as it were, so you get the best industrial cleaning
Great work ethic – you may be surprised to hear this, but our cleaning team really enjoy what they do! They have such a great work ethic instilled in them and strive to always do a great job regardless of the brief. They love nothing more than having a really productive day at work and going home with a sense of achievement.
Pride – a great cleaner knows that when they do their job well, they can really make a difference to people's lives, we mean who doesn't love coming home to a beautifully clean and polished house?! Our cleaners take pride in their work as they know it affects our customers in a really personal way.
Positivity – our cleaners have to be positive and happy, as they work directly with clients. They want to make sure that what they do has a positive impact on the client, and so they connect with people by being positive and happy in all that they do.
People person – cleaning is a service industry and so as we said before, people are at the heart of what we do. We provide a service to our clients, and so a good cleaner has to be someone who enjoys working with people.
Willingness to learn – this is one of the attributes that employers look for, no matter what job you do. A great cleaner not only has the ability to listen, learn and develop themselves, but they can also provide feedback and work with us to find a solution to any cleaning issues.
Trust – our cleaners have to be loyal to our clients, to their team members and to our company. We survive on building relationships with our clients and trust plays a huge part in this.
If you would like to work with our team of commercial or domestic cleaners, then please give us a call on 0161 217 1332 or drop us an email at [email protected]