5 Reasons Why You Need Professional Office Cleaning in Stockport
The new year tends to bring with it thoughts of how everything in your office is going to get better this year. You will finally get around to doing all those little jobs you have been putting off, making sure that your whole business runs more efficiently and professionally than ever before. And of course, the look of the place and how clean and tidy it is won't escape your attention either. Which begs the question, isn't it about time you stepped up to the plate and took some help from a company offering office cleaning in Stockport? You may be currently taking care of all your cleaning needs in-house which may not be to your (or your employees) satisfaction! So, take a good look around and see if you could benefit from some commercial cleaning help.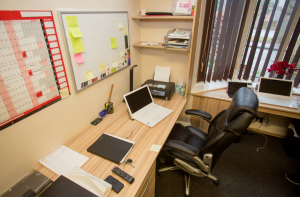 It is highly likely that you would be better off bringing a professional office cleaning company in to help, so here is a round-up of some of the main ways in which they can do that:
Better Results
Our Stockport Office Cleaning team undertake regular training to stay on top of the best cleaning routines meaning that they will consistently deliver you top class cleaning. When you start working with us, we guarantee that you will notice a real difference in your office from the very first clean. And you won't be the only one who will notice either – your employees and clients will notice as well.
Essential Deep Clean
When you work with professional cleaners, you will find that they will regularly organise for a deep clean to take place, which is an important task for any workplace. Everyone knows how much better you feel after a good spring clean when you finally get to grips with all the general mess and dirt that can accumulate over time. You can of course try and tackle it yourself which can cause major disruption and mess, or you can call on a professional commercial cleaning team to come in and sort it all on your behalf with as little disruption as possible.
Faster Results
One of the first things you will notice when you start working with an office cleaning company is that they can achieve amazing results in a really quick time. This is great news for you as the faster the process is completed, the less disruption to you and your business is caused. Everyone is a winner!
A More Professional Presentation
There are lots of studies out there that show that a clean and tidy office help improve employee satisfaction and productivity. This is a great result on its own, but a clean and tidy office also makes a great impression on anyone who visits your office and leaves them with a more favourable impression of your business.
Reduced Costs
Now you may think we've lost the plot saying that paying out for a team of professional cleaners will actually save you money, but when you think about the cost of equipment and cleaning supplies, it could actually save you money in the long run.
If you would like to talk to us about how we can save you time, improve your cleaning results and save you money in the long run, please give us a call on 0161 217 1332 or email us on [email protected]
(image by Chelsea Shoesmith Photography)