A Commercial Cleaning Stockport Guide to Staffroom Hygiene
How The State of Your Staffroom Can Impact Employee Sickness Level
Maid2Maid have been offering a commercial cleaning Stockport service for many years now, and we know that having somewhere for your staff to go when they are taking a break is fast becoming a workplace essential. This space is really important for your staff as it means they have somewhere away from their desk or the shop floor, where they can eat their lunch or have a brew in peace or to just generally relax for five minutes during their working day. However, what has also become clear to us in all our years of offices cleaning, is that this is one room in commercial office premises that tends to get cleaned the least often – usually because it is in use throughout the day and most people tend to think it is someone else's problem!
We are not just talking about dust and dirt here either. As it tends to be a room where people snack and eat their lunch, it can actually become unhygienic quite quickly which could lead to a rise in sick days taken by your staff. A recent report by the Food Standards Agency (FSA) reveals that about 5.5million people a year suffer from food poisoning – which amounts to about 1 in 10 people. Put simply, if your staffroom is unhygienic it could mean that 1 in 10 of your staff could end up being off sick.
The report also reveals that there are lots of ways in which people can be made sick by foodborne illnesses, but amongst the most common are illnesses that can be avoided by food being prepared and eaten in a clean and safe environment. However, we cannot see bacteria with our naked eye, and so most people will assume that things are fine if surfaces look tidy. Our experience has shown us though, that one tiny bacterium that is not cleaned properly, can multiply into millions of extremely harmful bacteria within a few short hours. Should these bacteria then be ingested by an unfortunate person, this member of your staff could become very ill indeed.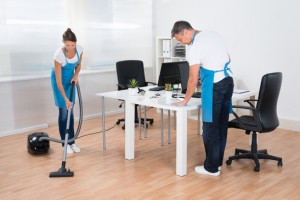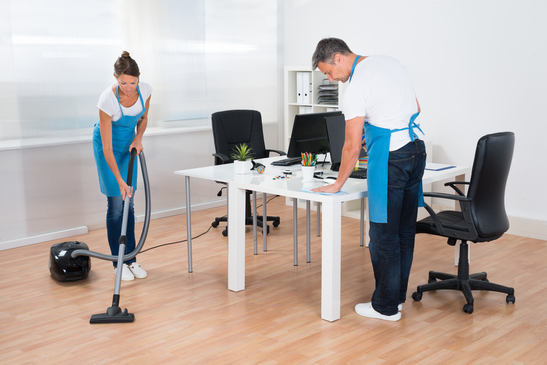 This may all sound a bit scary, but all we are trying to do is to highlight the importance of keeping your workplace clean, especially any communal areas. It may be that you are lucky enough to have employees who keep things tidy, but being tidy and being hygienic are two completely different things. Therefore, it is vital that business owners and managers are as proactive as possible when it comes to staff room hygiene, for the benefit of not only their staff but their business as well. Cleaning commercial premises is a vital task in order to show your visitors that your professionalism extends to your own premises as well as to fulfilling your customer's requirements.
It is not a difficult thing to do either. It can be as simple as investing in some cleaning supplies and leaving them to hand so that employees can access them easily. Provide your employees with a few packets of bacterial wipes and a bottle of spray may be all that is needed, along with a note explaining to all staff that it is part of their responsibility to keep the staff room clean and tidy. Getting them to share the responsibility of cleaning their own shared area is the key to this, rather than delegating just one person to be in charge. After all, they should have a vested interest in keeping their break area healthy and hygienic and not somewhere that makes them ill.
On the other hand, you could leave all this to us – after all, we have been offering a commercial cleaning service in Stockport for many years. If you want to have a chat about what we could offer you, then just give us a call on 0161 217 1332 or send us an email to [email protected]